Stran v tématu: [1 2] >
Non-breaking space errors. I don't understand why I am getting them or what they mean.
Autor vlákna: Clare Rubin
Clare Rubin


Velká Británie
Local time:

14:46


španělština -> angličtina

Taking my first steps with Memo Q. (So far, I'm really liking it and can't wait until there's an offer on here to buy it!)

I am receiving the warnings: 03194 and 03197

"The space before the rpr tag should be a non-breaking space" and also,

"A non-breaking space is missing after the rpr tag".

Any assistance, greatly appreciated.

Many thanks.

Jan Truper


Německo
Local time:

15:46




Člen (2016)


angličtina -> němčina

Clare Rubin wrote:

The font of the last part of the sentence following the 01394 error does appear different in the view pane however...



Yes, that's one of the many things tags do. You can expand the tags to see what's in them (Edit tab):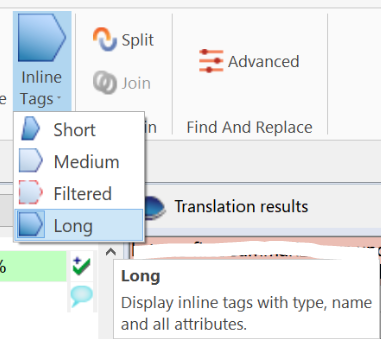 This has nothing to do with the blanks, though.

In French, for example, certain signs, such as question marks and colons, must be preceded by a blank. MemoQ doesn't understand that such a blank doesn't necessarily have to appear in the target language.

That's why you need to use your own common sense and linguistic knowledge and should simply ignore such warnings when they are linguistically irrelevant.
| | |
| --- | --- |
| Expanded tags. Still unclear why affecting the font. | Aug 12, 2019 |
Thank you, Thomas.

I took a photo on my phone but it doesn't seem that you can post Jpegs onto the replies here.

With something like this, could I save the finished project as Word and then manually apply a format correction afterwards? (This is providing the client does not want it in the Memo Q file format.)

Thank you.
| | |
| --- | --- |
| Different to what I'm seeing | Aug 12, 2019 |
I'm not seeing the option for dragging files or choosing files. Also, as it was a screen shot, when I drag that to the reply area, it takes up the whole screen and then I have no way of posting the reply as all I can see is the screen shot. I'd do a screen shot of what I'm seeing on my "Post reply" area but then I'd have the same problem posting that! Anyway. That's all veering away from my initial topic.

mughwI
Spojené státy americké
Local time:

09:46


angličtina -> španělština
+ ...


Kirill Loktionov
Ruská federace
Local time:

16:46


angličtina -> ruština
+ ...

| | |
| --- | --- |
| Turn off space settings in QA | Jun 16 |
Hi guys,

I would also like to know how to uncheck the settings of QA error codes 3190-3193 (missing space before/after rpr tag and extra space before/after rpr tag) 'coz they are really annoying. But are they customizable in QA? Haven't found this tickbox while editing the settings.
Stran v tématu: [1 2] >
To report site rules violations or get help, contact a site moderator:
You can also contact site staff by
submitting a support request »
Non-breaking space errors. I don't understand why I am getting them or what they mean.
TM-Town
Manage your TMs and Terms ... and boost your translation business

Are you ready for something fresh in the industry? TM-Town is a unique new site for you -- the freelance translator -- to store, manage and share translation memories (TMs) and glossaries...and potentially meet new clients on the basis of your prior work.

More info »
CafeTran Espresso
You've never met a CAT tool this clever!

Translate faster & easier, using a sophisticated CAT tool built by a translator / developer. Accept jobs from clients who use SDL Trados, MemoQ, Wordfast & major CAT tools. Download and start using CafeTran Espresso -- for free

More info »